The WGHS Robotics team will be represent Ghana at the 2018 FIRST Global Robotics Challenge.  The challenge will be held in Mexico City, Mexico from August 15-18, 2018.
The theme for 2018 is "ENERGY IMPACT". From commonly used fossil fuels to environmentally-friendly resources like solar and wind, energy is a tool that powers the different parts of our world one way or another. The 2018 FIRST Global Challenge will explore the impact of the different types of energy we use and how we can make them more sustainable.
The "Olympics"-style robotics challenge hosts high school students from over 150 countries, with different backgrounds, languages, religions, and customs. By bringing these future STEM leaders together in an engaging and collaborative competition that drives home the importance, excitement, and applicability of STEM education, FIRST Global inspires students to learn the skills they will need to make the discoveries their parents and grandparents would consider miracles, impossibilities, or just plain science fiction.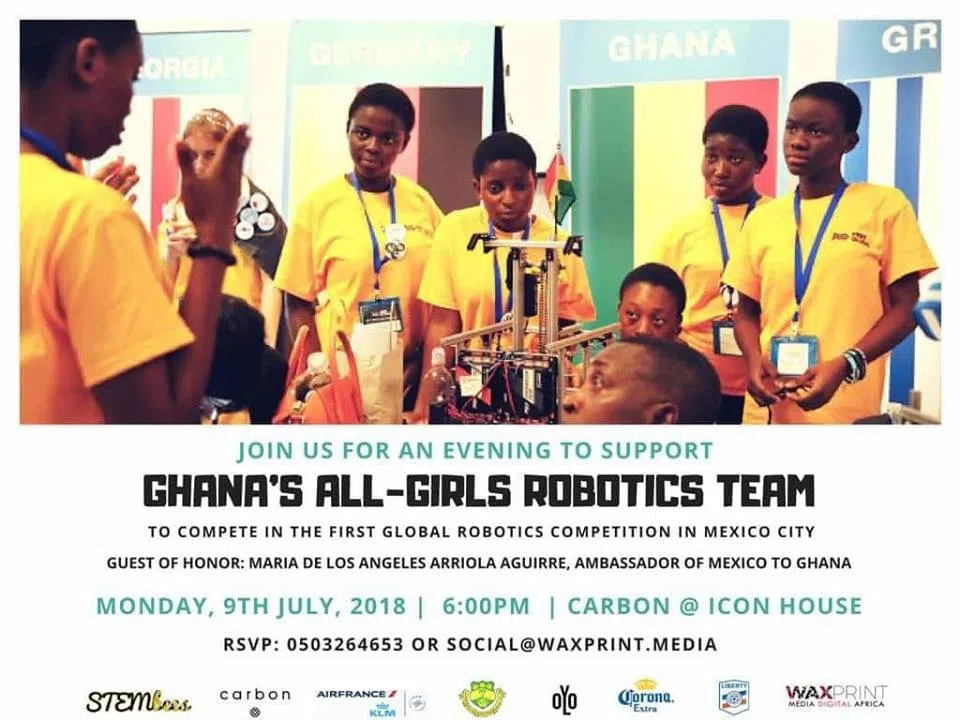 In 2017, Ghana's team was the only female team from Africa – with 6 students from the Archbishop Porter's Girls' Secondary school in Takoradi. Out of 163 teams from 157 nations, Ghana ranked 66. The maiden edition, held mid-July of 2017 at Constitution Hall in Washington, D.C., USA had change makers such as Ivanka Trump attending. The competition was centered on the theme of PROVIDING ACCESS TO CLEAN WATER.
FIRST Global is making sponsorship opportunities available to local businesses who would like to help our team and also gain valuable exposure among participants, parents, and spectators (their website received over 350,000 views during the 2017 event, which was live-streamed to every country in the world).
The main hurdle for the team is the funds for their airfare to and from Mexico City, Mexico. Hotel, meals, intra-city travel, and medical costs have been covered with the support of the parents of team members. Air tickets cost $2400 per person with Hotel and food costs at $600 per person. For a total of $3000.
The WGHS Robotics team members are:
Dillys Annan

Eyram Nud-Duwor

Enam Dartey

Lizette Osafo

Foriwaa Abu-Sakyi – Team Captain
With 3 mentors
Angela Koranteng

Lady-Omega Hammond

Benedict Amoako
The STEMbees Organisation is the mentoring organization for the team from Ghana. Founded in 2014, we work with public middle and high schools to mentor and engage girls in STEM activities including 3D Design and Printing, Electronics, Robotics, Coding, Robotics, LEGO Education, and STEM Career Awareness. I have attached a brief profile of the organisation to this letter. We are seeking to raise $25,000.00 to fund travel, hotel and food costs for the competition.
You may find more information about the competition at www.first.global/fgc/.
Here's a link of how the challenge's game would be – https://www.youtube.com/watch?v=FPDQhhv11KY
The YOLO Experience (

http://yoloxperiences.com/

) – which runs some  beautiful hospitality centres at the Stanbic Heights, Airport – has offered their Carbon Nightclub space to host a fundraiser. The intended date for the fundraiser is

Monday, July 9, 2018

. We are yet to schedule a time for this cocktail event. We would love to partner with the WGHS-OGA in hosting the fundraiser.