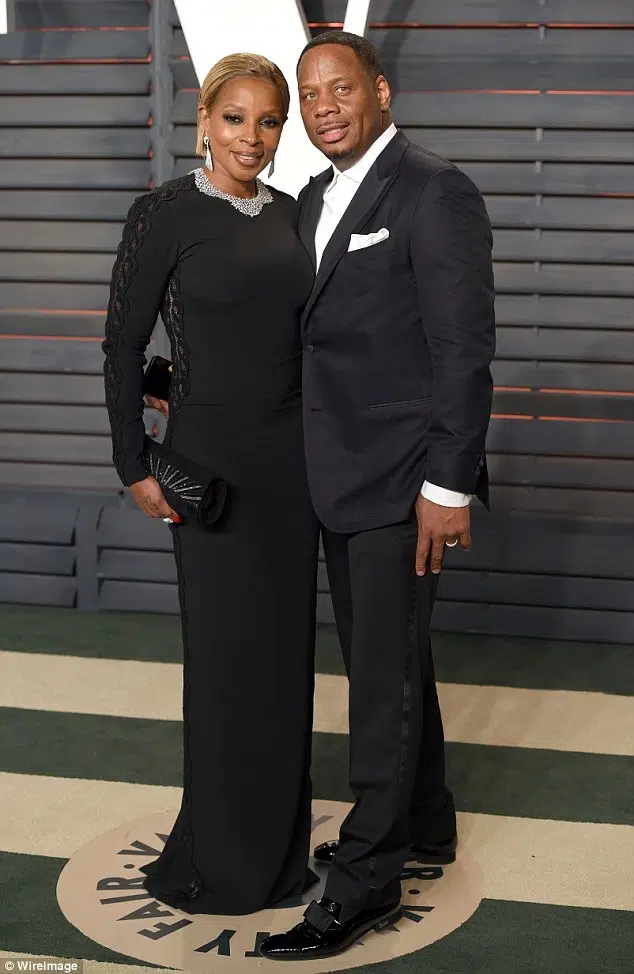 Mary J. Blige's estranged husband is demanding $130,000 in monthly spousal support so that he can continue to live the 'lavish' lifestyle he enjoyed before she filed for divorce.
Martin 'Kendu' Issacs, 49, believes the R&B songstress should help him pay for his personal training sessions, private chef and a $1,000 allowance for new clothes.
Blige, 45, filed for divorce from Issacs in July, citing irreconcilable differences after nearly 13 years of marriage.
She also fired her husband as her personal manager throughout their marriage and left him with 'no source of income', Issacs argued in papers filed to the Los Angeles Superior Court on Monday.
The filing states that Issacs made $46,204 a month when he was employed by his wife, and earned a total of $554,465 last year as her manager.
But Issacs, who claims to have $4.5million in assets, said he now needs spousal support because his financial situation has 'changed significantly in the last 12 months', court papers state.
Blige gave Issacs $35,000 in August and $50,000 in September for spousal support, in addition to $25,000 for his legal counsel.
The filing states that Issacs has already spent this money because he had to 'secure new living accommodations'.
Issacs added that his bank and checking account is currently overdrawn, with a balance of -$13,104.
Now the unemployed former manager wants to return to a life that included traveling by private planes, dining at expensive restaurants and socializing with A-list celebrities, the filing states.
Issacs specifically wants Blige to cover $129,319 out of the $161,434 he spends per month.
In addition to the $8,000 private chef and $3,200 personal trainer, he has also asked Blige to contribute to the $5,000 he pays his parents each month and the $71,000 in rent he owes to several properties.
Issacs also pays nearly $5,000 a month in support for two children from a past relationship, $2,500 on auto expenses and transportation, $5,708 in maintenance and repair on his properties and another $5,732 on groceries.
He has also asked for help in paying the $21,677 he gives in charitable donations and the $10,000 he spends on entertainment, gifts and vacations.
Issacs requested that Blige pay him an additional $100,000 for attorney fees and another $30,000 to his forensic accounting fees.
Blige and Issacs signed a prenuptial agreement two days before their December 2003 wedding day that includes a waiver of spousal support.
But Issacs is now arguing that it should not be considered valid or enforceable because Blige had legal representation at the time of the signing and he did not.
Issacs said at the time he also did not 'understand the consequences of what I was about to sign', he writes in the filing.
He then argues that the fact that Blige has already given him two payments in spousal support is evidence she 'has her own reservations regarding the validity and enforcement' of the prenup.