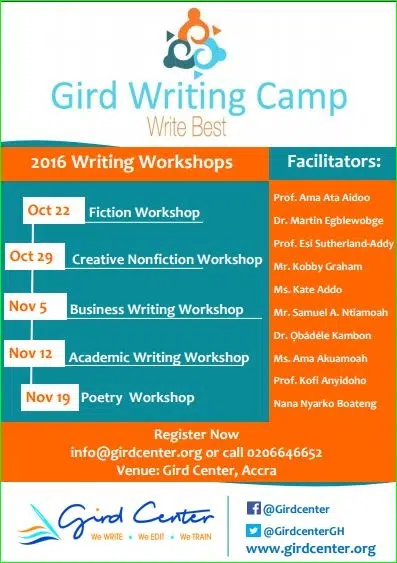 Gird Writing Camp, the annual writing training program dedicated to supporting young professionals and students in their creative, business and academic pursuits is open for registration this October.
As typical of Gird Writing Camp, the organizers, Gird Center, has gathered the support of Ghana's creative, business, and academic giants to teach at this year's camp. Gird Writing Camp 2016 offers 5 writing workshops with focus on Fiction, Non-fiction, Business Writing, Academic Writing and Poetry.
Professor Ama Ata Aidoo and Dr. Martin Egblewobge kick off this year's camp with a Fiction Workshop on October 22. Others to join in on subsequent weekends up to November 19 are Prof Esi Sutherland-Addy and Mr. Kobby Graham for Non-Fiction, Ms. Kate Addo and Mr. Samuel Ameyaw Ntiamoah for Business Writing, Dr. Ọbádéle Kambon and Ms. Ama Akwaa Akuamoah for Academic Writing and Prof. Kofi Anyidoho and Nana Nyarko Boateng for Poetry.
Ms Kate Addo, the Acting Director of Ghana's parliament and the Visiting Expert for the Business Writing Workshops said, "I have observed with great admiration the work that Gird Center does with regards to equipping young people with skilful communication tools. In today's world, ambiguities continue to remain the bane of both formal and informal communication mainly due to inappropriate use of language.  Determining one's audience and designing the appropriate message for them has therefore become imperative. It is therefore my utmost pleasure to be part of Gird Center's efforts to equip young people to deliver accurate, succinct information to their various publics."
Nana Nyarko Boateng, CEO of the Gird Center said, "Gird Writing Camp 2016 is going to be the most exciting yet. Our camp does not teach writing for the sake of it. We are building a strong community of young creative, business and academic professionals who will transform Ghana's economy and culture. Gird Writing Camp provides knowledge sharing opportunities and the highest standards of support for young professionals and students."
To be a part of this exciting experience, register now here. For detailed information about this year's camp and facilitators, visit www.gird.center.org. Interested persons may send their names and email address to 020-664-6652 or info@girdcenter.org
For further information please contact:
Portia Opare
Tel: +233(0)302720501/ Mob: +233(0)20 7152656