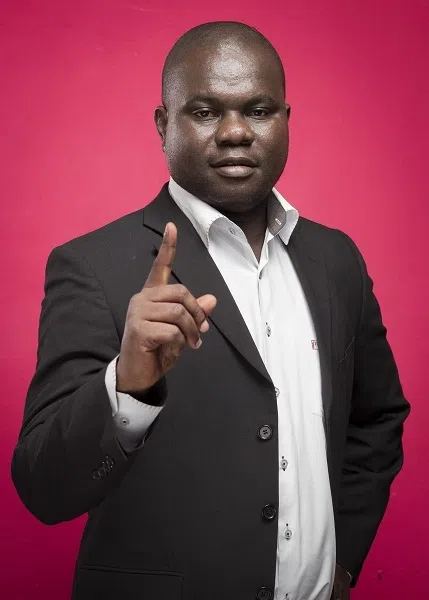 Happy FM's sports presenter, PJ Mosey, born Moses Antwi Benefo, says his 16-year-old career is devoid of bribery scandals and unprofessional records.
According to him, his attitude towards work has always been positive.
He works diligently and upholds the ethics of journalism. He doesn't give in to unscrupulous endeavours that will jeopardise his track record as a hardworking presenter.
PJ claimed he has never been influenced by money to work in favour of any personality in the sports industry.
"Throughout my 16 years working experience as a sport journo there is no single person being an active member in our industry, either being a player or administrator that can say he or she has influenced me in a way or the other to channel a crusade in his or her interest," he told NEWS-ONE's Francis Addo in an exclusive interview.
His denial followed public secret that certain sports journalists have always been leading crusades for certain key sports personalities.
"Never! There is nobody who has influenced me through cash or whatever for me to channel an agenda in his favour. No! No!  If you give me documents and I see these documents are real, they are factual; I mean they are things that will help do something for the public good, I will follow it. I can't be influenced by money. I mean I am a human being, everybody has got his price but it never happened in my 16 years working experience as journo. Nobody had dared or tried doing that to me but I can work to suit someone's interest. That doesn't mean I have been influenced. But per the agenda on board, per the issue at stake I can work to favour you and I can work to disfavour you. That doesn't count as an influence for or against someone," he emphasized.
He also dared any personality in the sporting arena to come out to challenge him if he or she has ever given him money to skew an agenda in their favour.
"I have dared people on several platforms that I have worked with …Nobody, being administrator or whatever has ever challenged me before," he added.
PJ is described as an astute and brilliant radio personality who commands massive listenership in Ghana. He was a trained teacher, but abandoned the field to follow his passion, sport presenting.
"I have no regrets taking up this profession in the sense that I love the profession. I love the job. I love my job satisfaction. Somebody will ask what's my job satisfaction? That is what I look out for. Any time I see the Ghanaian audience and the sports arena and I am able to feed them with the information that they needed; it is my job satisfaction."
He is an old student of Prempeh College in Kumasi and Wesley College where he studied Mathematics and Physical Education. He taught for three years at Anyansu L/A Junior Secondary School in the Bekwai District of the Brong-Ahafo Region. He later proceeded to the University College of Education Winneba, where his radio career took off in 2000.
He was a sports presenter on the campus radio station, Windy Bay. After school, he was posted to Sunyani for his internship and he taught at Odumasiman Secondary School alongside practicing radio on Space FM and Sky FM. Upon completing his service, he was recommended by a senior manager to the sports director of Fox FM and that ended his teaching career and the beginning of his radio career. He currently hosts the Anopa Bosuosports programme on Happy FM.
"I did sports in school. I followed sports. All my family members are into active sports. Some are footballers, others are into other sports disciplines but it is the interest and passion that is there. That is why I abandoned profession as a teacher to come to the realm of sports," he explained.
In 2013, he was adjudged the Best Radio Sports Presenter at the RTP Awards. In 2015, he graduated from the Sikkim Manipal University with a master's degree in Journalism and Mass Communication and has since remained an influential figure at Happy FM.
By Francis Addo (Twitter:@fdee50   Email: fdee500@yahoo.com)