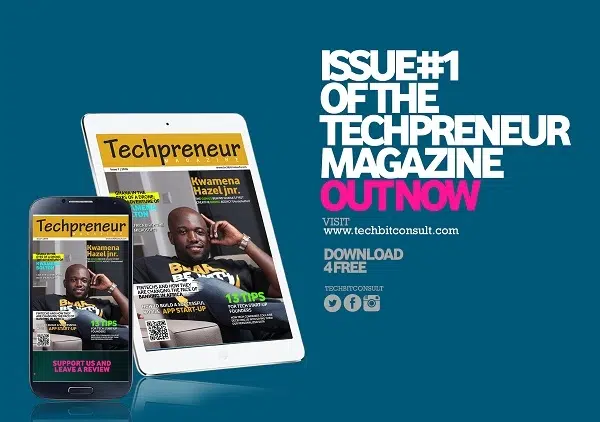 The first digital technology magazine in Ghana hits the market today as part of an initiative to promote the Ghanaian tech community and the West Africa sub-region.
The digital magazine; Techpreneur offers rich and relevant content that reflect the need for Ghanaian innovations and showcases some of the most exciting tech start-ups and professionals in Africa.
Speaking at the launch the Publisher of the magazine, Clement Safori Fianko said, "Over the past few years, we have noticed several tech start-ups springing up in the country, but there is no platform for these start-ups to tell their stories". He further explained the Techpreneur magazine is crafted to engage, inspire and inform readers who have entrepreneurship interests in the tech industry.  "The magazine captures of interviews with young and seasoned "technopreneurs", who share their stories, give insights into the industry as well as guide tech start-ups towards greater successes," he added.
Subsequent editions about the Techpreneur Magazine will be published quarterly each year. Its maiden edition focuses on personality spotlights, and engaging features such as "Kids and Tech". It also includes "gadget reviews", and "wearable tech". The magazine will be in a pdf format and can be read on any device with any pdf reader. Subsequent editions will be available in downloadable software applications.
"We've been impressed by the fast uptake of books on eReaders and digital devices over the past few years. We're truly excited about the future of digital magazines, and the level of interactivity we can have with our readers through the platform," said Mr. Fianko.
The first issue of Techpreneur
Techpreneur offers 40 pages of pure technology buzz, start-up culture and industry insights. On the cover of the very first issue is Kwamena Hazel, CEO of Aeroshutter (Ghana's first Creative Drone Agency) and David Kwamena Bolton, the Technical Director at SOFTtribe. Readers can have access to the magazine online via, techbitconsult.com which will direct them to the new Magazine tab on the website. On social media, Techbit Consult will use her personal accounts to share content and news specific to the magazine via the hashtag (#) Techpreneur.
Techbit Consult is an IT and business consulting firm that helps small businesses and individuals to leverage on technology in improving their operations. Our wide range of services include: websites and software development, interactive and mobile applications, digital and social media marketing as well as Graphic design and identity solutions.