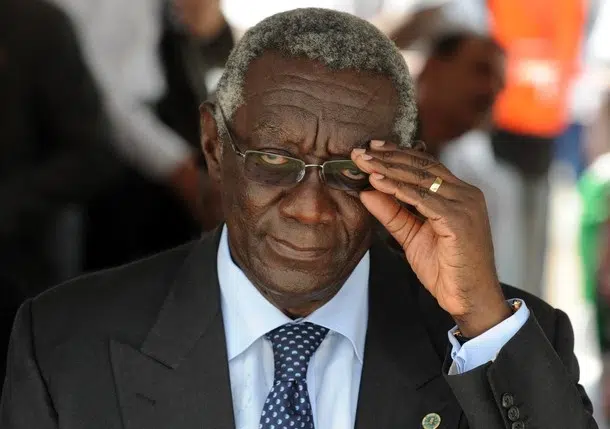 As contained in the 100 Ghana's Most Influential (GMI) personalities list released by e.TV Ghana recently, former President John Agyekum Kufuor is the most influential statesman for the year 2015.
According to the list, President Kufuor came ahead of the likes of former United Nations (UN) General Secretary, Kofi Annan; former President Jerry John Rawlings and Her Ladyship Georgina Wood among other statesmen.
Ex-President Kufuor ranked fifth out of the overall hundred GMI personalities list that was released live on e.TV Ghana's State of the Nation program on May 11. The list is made up of politicians, clergy, footballers, business people, entertainment personalities and journalists among other.
The former President has been involved in several philanthropic projects including training smart Ghanaian students in the area of governance and leadership. He established the John Agyekum Kufuor (JAK) Foundation in 2011, to among other things provide specialized orientation through program mentorship, skills and experiential activities as well as annual stipends to young people in the tertiary level.
The Ghana's Most Influential Awards is aimed at recognizing and celebrating the top 100 Most Influential Ghanaian personalities who have contributed immensely to the growth of our society in various ways -as voted by the general public-.
After public nominations were opened in November last year, the list was compiled and the review process started. Public nominations were scored 40 percent and the GMI Committee consisting of editors, producers, and representatives of audit firm PKF Accountant & Business Advisors scored the remaining 60 percent.
Nominees were rated on 5 key metrics and the results were collated and analyzed with the assistance of audit firm, PKF. They partnered with e.TV Ghana to authenticate the voting and weighting process. The various personalities will be awarded at the June 30 ceremony in Accra.
Below is a list of Most Influential Statesmen and how they came up in the GMI ratings
Most Influential Statesman
A Kufuor (5)
Kofi Annan (19)
Jerry John Rawlings (22)
Her Ladyship Georgina Wood (23)