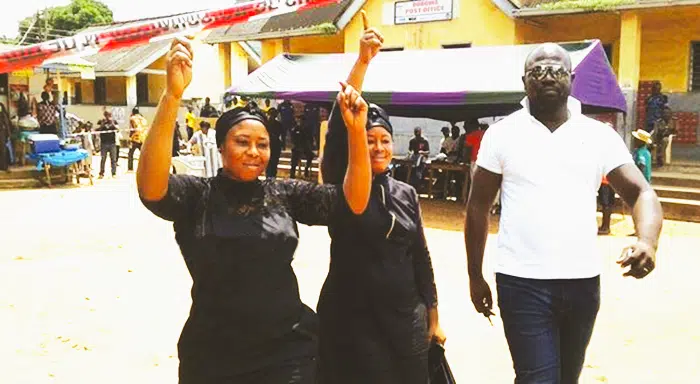 The widow of the Shai Osudoku Constituency National Democratic Congress (NDC) parliamentary aspirant, Mrs Linda Akwele Ocloo, on Saturday gave her late husband a glowing tribute by beating Dr Michael Kpessa Whyte in the NDC parliamentary primary in the constituency in the Greater Accra Region.
The professional teacher polled 5,156 votes against 3,372 garnered by Dr Kpessah Whyte, the Acting Executive Director of the National Service Secretariat.
The NDC Shai Osudoku parliamentary ticket became vacant after the elected candidate, Mr Desmond William Ocloo, died in a tragic accident at Juaso in the Ashanti Region in March 2016 shortly after he was elected.
Rerun
It is the second time Dr Whyte has lost the primary having contested the earlier one against three others. In the first contest, Mr Ocloo defeated the incumbent, Mr David Tetteh Assumeng, by polling 4,350 votes, with the two other contenders, Dr Kpessah Whyte and Ebenezer Adzakli, polling 3,189 and 393 respectively.
The camp of Mrs Ocloo explained that her decision to contest the seat was to fulfil the ambition of her late husband who they said had contributed significantly to the cause of the NDC in the constituency.
Peaceful process
Voting took place in 50 polling stations in the constituency where 15,800 party members were expected to cast their ballot. However, only 8,652 votes were recorded out of which 124 were rejected.
The voting process was generally peaceful save a minor incident at the Dodowa Post Office Polling Centre, in which some supporters of Mrs Ocloo booed and jeered at Dr Kpessa Whyte and his team who were on monitoring rounds.
However, the security agencies ensured calm for the voting to continue.
At about 3:15 pm, a downpour was recored but that could not deter the party faithful from voting. They defied the rains by remaining in the queue to cast their ballot.
At the end of the exercise, officials of the EC who supervised the process declared Mrs Ocloo, a teacher with no political experience, the winner of the election.
She expressed gratitude to party members and called for unity as the party prepared for the general election.
Incumbent MP
The incumbent NDC Member of Parliament (MP) for Shai Osudoku, Mr Tetteh Assumeng, opted out of last Saturday's primary in solidarity with the late Ocloo, leaving the contest to be between Mr Kpessah Whyte and Linda Ocloo.
Graphic.com.gh