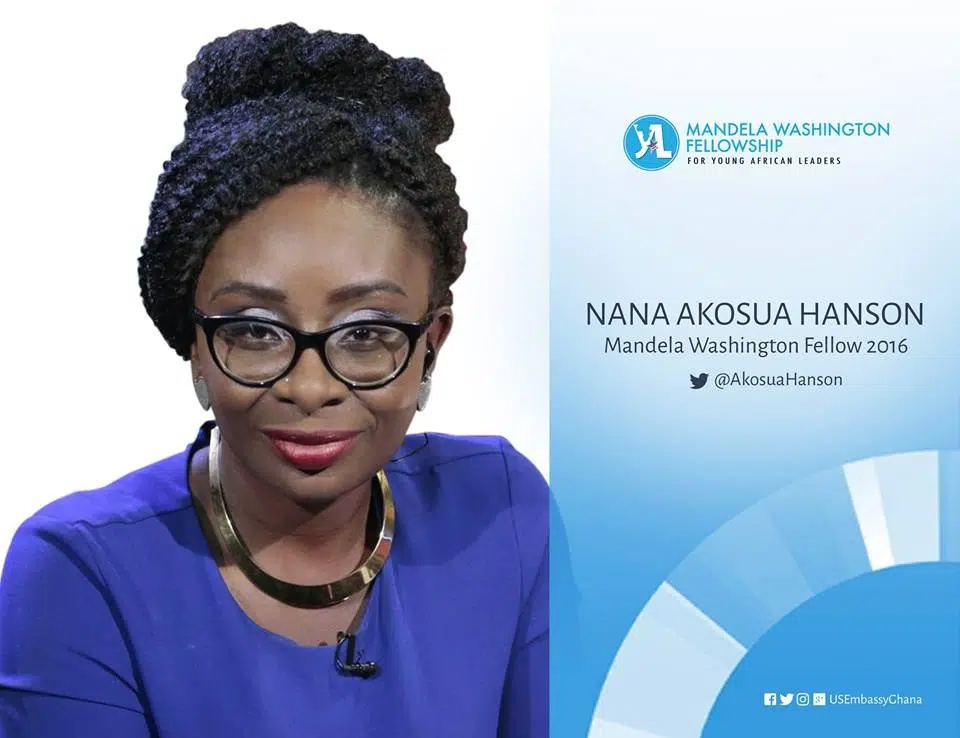 Host of YFM's Y Lounge, Akosua Hanson has expressed excitement for making the final list of the Mandela Washington Fellow in President Obama's Young African Leaders Initiative.
"The first time I heard about it, it was Shamima Muslim who was selected and everyone was talking about it. Then last year, my producer on the Y Lounge asked me to take a shot at it and so I decided to apply last year."
Talking about the selection process which eventually landed her in the list, the writer told YFMGhana.com in an exclusive interview;
"I was called to an interview and subsequently selected. I think there was about two thousand applications from Ghana alone and after the interview, they cut us down to about thirty-nine to represent Ghana. It was pretty rigorous.
About the programme:
"What happens is that, there are others from other parts of the continent that made the cut and these include thought leaders from Business and Entrepreneurship, Civic Leadership and Public Management. I'm under the Civic leadership track and this will allow me to meet young African leaders from around continent and I will, particularly, be excited to meet the men and women doing the kind of work I'm doing across Africa. Especially those focusing on gender equality, fighting against rape culture; this will open the doors for me to meet people to collaborate with and have the sexual consent workshop replicated in their countries also."
Akosua elaborating on the importance of the Fellowship to her budding outreach programme which has already been hosted in Tema International School added;
"It's a huge stepping stone for me, considering the small thing I was doing in my corner and getting this kind of attention from the US, to the extent that I was selected to be on this huge platform to further explore the field I'm already exploring with like-minded people. I'm really glad.
"I'm planning to go back into theatre also to use it as a vehicle to propagate the message of gender equality, campaign against rape culture and issues predominantly centered on women and the world we live in and various reactions and counter reactions.
"My inclusion in this year's programme will boost the reputation of the workshops I run on my own in schools. Sometimes, getting the high schools on board is difficult because teachers and parents are hesitant to talk to their adolescents and teenagers on topics relating to sex but this Mandela Fellowship will further endorse our workshop. We plan to have the workshop for the parents before their wards. This will give them the opportunity to experience the content of our presentation before we share it with the adolescents, and teenagers.
Akosua Hanson earlier in the year, in partnership with the Mbaasem Foundation, a non-governmental organization headed by Ghanaian writer, poet, activist, Ama Ata Aidoo and Kinna Likimani, book blogger and activist, who supports women and women's writing across Africa, held a workshop at Tema International School with the theme "Let's Talk Consent". She and her team taught the myths and misconceptions of sex, the rules of consent, the effects pop culture has on image and sexual identity, and much more.
"I'm truly grateful I was chosen. It's great to have been selected as a Mandela Washington Fellow this year. I will try and soak up all the knowledge that I possibly can and network to get my message and workshops to many other places."
YFMGhana.com