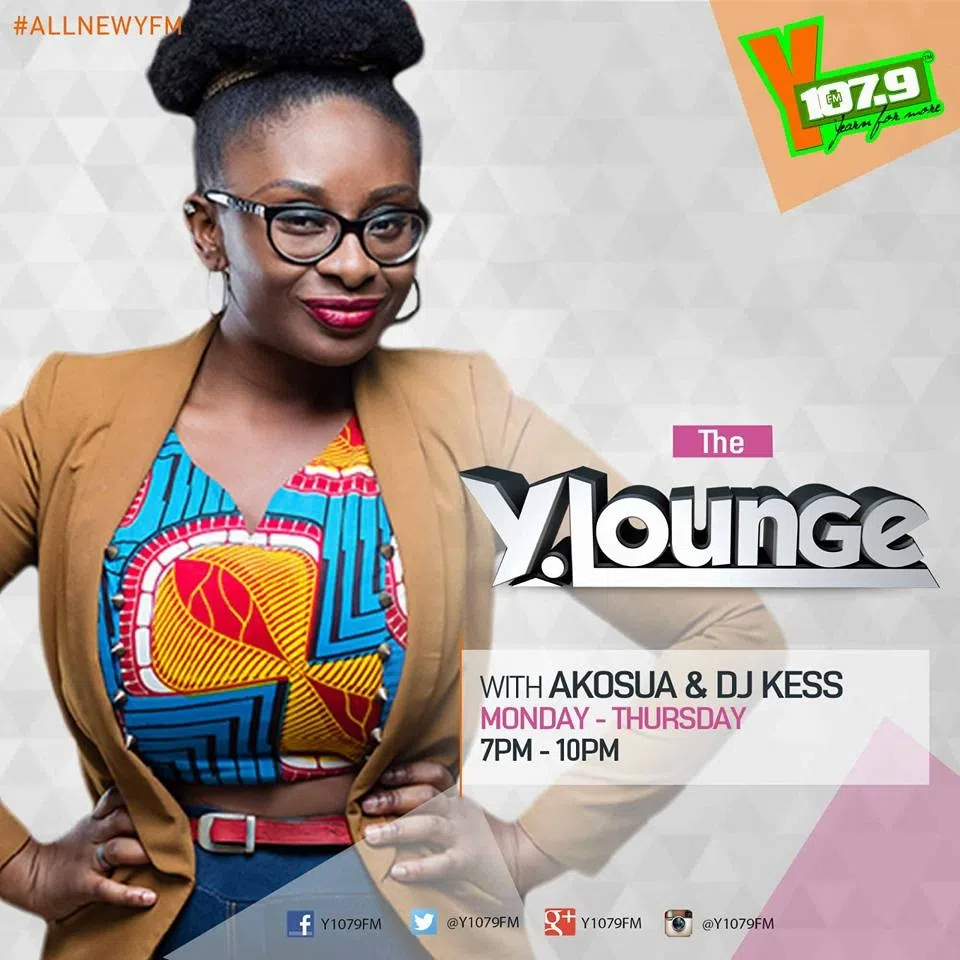 Y Lounge with Akosua Hansen & DJ Kess
Akosua Hanson
A Ghanaian TV and Radio personality, Nana Akosua Hanson is the presenter of the Y Lounge on  Ghana's biggest urban radio station, Y FM.  Her radio career, which is four years old, began at Citi FM.
On TV, she was the host of award-winning entertainment show, 30 Minitz, and is currently a host on Celebrity FanZone on Viasat one, which highlights women's points of view on a wide range of issues including social issues, pop culture, entertainment and trending topics in any other field.
A writer, an actress and an activist, Nana Akosua believes in the power of art and artistic expression in changing the world.
She currently writes for South African pan-African website, thisisafrica.me and curates two blogs www.culturejunkieafrica.wordpress.com  and www.darkmosaic.blogspot.com . She has published articles such as 'Ebola and the Africa-hating Single Story', 'A Girl's hopes for Women's Day', 'Shashii, Ghanaian Twitter and Slut Shaming', 'Could We Be Protecting the Cosby Next Door?'. She has a deep interest in fiction and has published some short stories, a popular title being 'Love is a Two-letter Word: Me'.  She is currently working on a collection of short stories. A poet as well, Nana Akosua is a part of the growing spoken word scene in Ghana and has performed many times at the Ehalakasa Spoken Word Festival.
As an actress, she has graced the stages of the National Theatre and the Efua Sutherland Drama Studio in plays such as The Seamstress of St. Francis Street, Vagina Monologues, A Raisin in the Sun amongst others. She is currently acting in season 2 of the popular web-series, An African City, which delves into the personal lives of Ghanaian returnees.
DJ Kess
In a rather densely male dominated industry Kessewaa has risen to become one of the most sought after DJs in Africa. With a small beginning from her secondary school days in Archbishop Porter Girls', DJ Kess discovered she had the potential to become a very good DJ when she was made the official DJ of the school. She was able to learn a lot with the unlimited access she had to the school's sound equipment and laid a foundation for what will later become her career.
Making the bold decision to pursue her dream of being one of the greatest DJs, she has now been in the business for the past 7 years and now rubs shoulders with some of the biggest DJ brands in Ghana. She also boasts of being the best female DJ Ghana has ever had.
In 2011, DJ Kess was invited to be the guest DJ from Ghana to play at the Saturday House Party on the Big Brother Africa reality show. This won DJ Kess more credibility as a force to reckon with. She also played at the 2012 Etisalat Epiq Nation concert in Benin Copa Coca Cola in Nigeria in 2012, the Mario and Shotelle live concert in Ghana and the Red Lipstick all female concert among others. She has won the Best Female DJ at the Ghana DJ Awards twice in a row and was nominated for the Best Female DJ at the 2013 African Global DJ Awards in Johannesburg, South Africa. ​
Currently, DJ Kess is the official DJ for the YLOUNGE with Akosua Hanson and Party Pressure with the Soul Man. She also DJs at Bella Roma Club inside Osu in Accra. She has also tried her hands on video DJing when she used to host the Airtel Magic Moments on e.TV Ghana. DJ Kess is now into beat making and music production which will feature artistes from in and out of Ghana.