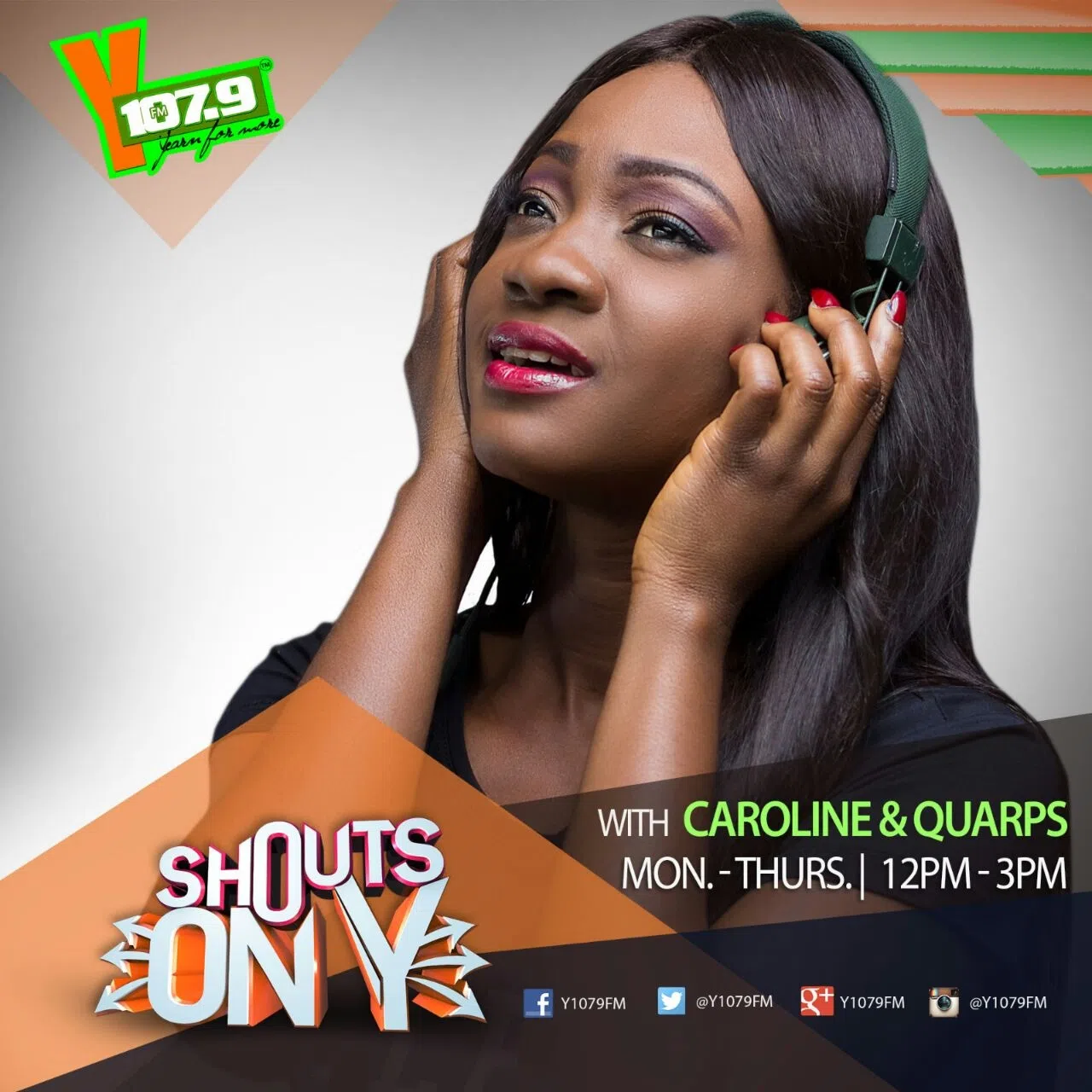 The show is divided into three segments.
1. #AfroTunes; Tunes across African continent in the first hour together with the listeners requests
2. #YummyTime; comes in the second hour; (13:25) basically we give tips on good healthy eating, introduce African cuisines to our listeners, healthy foods one should eat, tips on how to prepare Ghanaian foods and tips on how to eat and gain weight or lose weight etc.
3. #VoiceNotes; in the last hour, we play voice notes from listeners, they send in voice note of requests to their love ones and the song they want us to play for them on air.
CAROLINE SAMPSON
Caroline Sampson is a versatile, ambitious and hard working media personality who looks forward to doing greater and challenging works within the entertainment industry.
She has worked with some top Radio and TV stations across the country like Atlantis Radio, GTV, TV3 and Citi FM as an on-air personality. Caroline then moved to YFM in 2011 where she currently hosts Shouts on Y at lunchtime on weekdays.
She has over the years gained a cult following all over the country and has been described as a delight to watch and listen to. She has MCeed shows like 'Vodafone 020 Live' concert and 'Glo X Factor Ghana launch' among others.
She was the Ambassador for Woodin and the Face of Castle Milk Stout between 2005 -2006.  In 2009 Caroline received the accolade of Best Presenter at the Stars Integration of Culture of Africa (SICA) festival & competition in Benin. Caroline recently celebrated 10 years in the Ghanaian creative arts industry as a TV, Radio, Event Host and a model. Currently, she is the online Ambassador for Papa's Pizza.
Quarps Hansen
Quarps Hansen, full name, Nii Quarcopoome Hansen, joined Y FM Ghana in 2011 as the producer of Y Sports.
He later doubled as a disc jockey and stand-in presenter of the show. In 2013, the production of 'Ryse n Shyn', Y FM's morning show, was added to his duties.
The Ghana Institute of Journalism graduate subsequently became a stand-in host of the Afropolitan Mix when the need arose. In April 2015, Quarps became the official host of the Afropolitan Mix which aired between 12 and 3pm on weekdays.
With the arrival of the All New YFM, Quarps Hansen's versatility saw him drafted to the Y Lounge. Quarps has demonstrated professionalism and creativity in all of his endeavours. He is currently the DJ on Shouts on Y with Caroline Sampson.