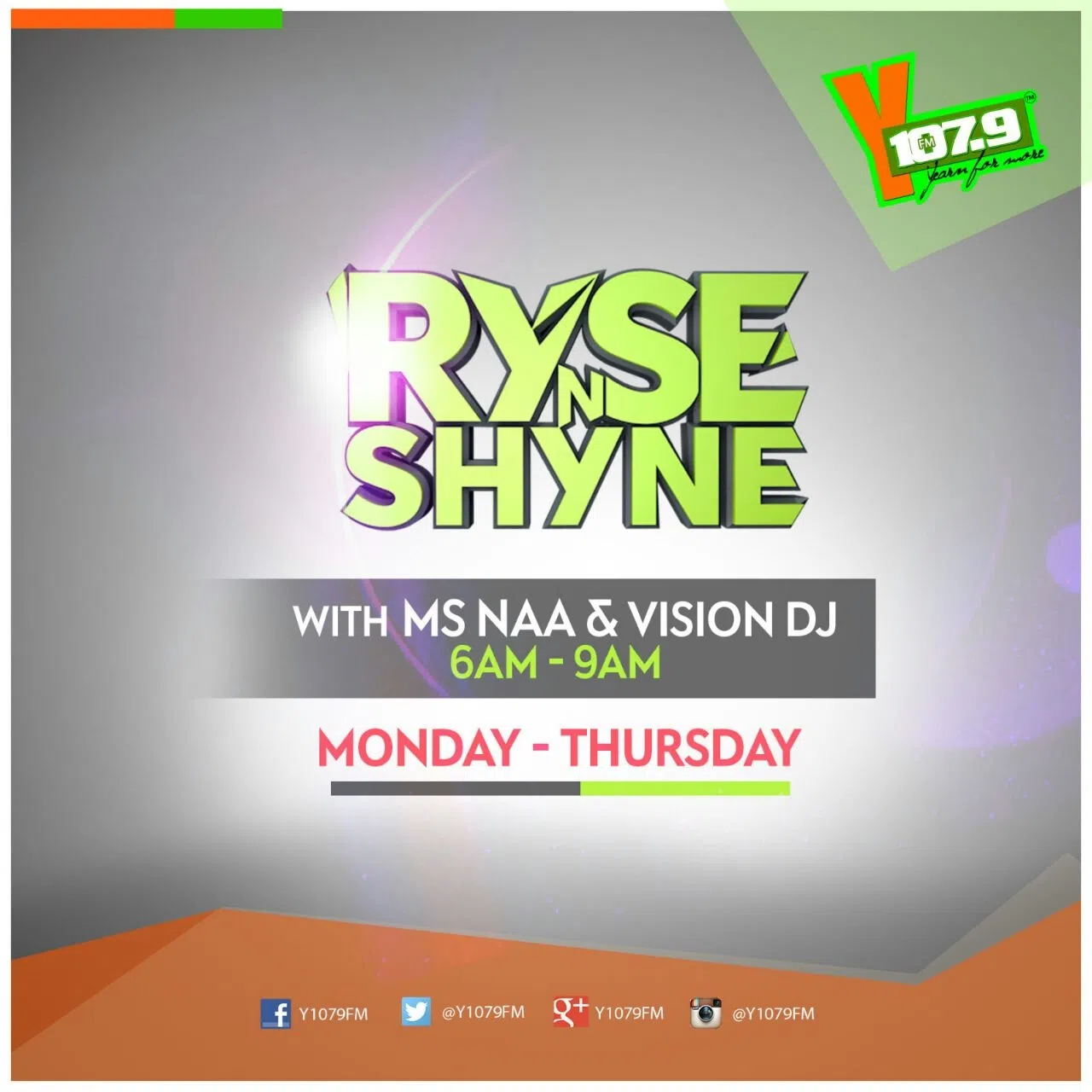 Ryse N Shyne is Ghana's #1 urban, fun and informative breakfast radio show. The show is hosted by hilariously notorious Ms Naa. Within the show we cover top news headlines from around the world, Africa and Ghana, entertainment and worldwide trends, fun phone-in games, hysterical motivational words, easy business ideas, simple money saving tips, health & fitness pointers, helpful lifestyle hacks, easy styling ideas and a lot of giveaways. This show airs from Monday to Thursday between 6am-9am.
Most talked about news from around the world, in Africa and in Ghana.
Inquiring Minds Wanna Know
A random, interesting, question that the host asks listeners. The question changes daily and is discussed at any point during the 3hr show where the audience can join in the conversation via social media and interact with the program.
Change Your Life
Hilarious motivational advice by "Bishop Naa".
Trending ENT
A quick discussion on the most popular entertainment stories.
No Weakness
Various daily health tips for the listener.
Tick, Tock Beat the Clock
Phone in segment where a listener calls in and have 1minute to answer 10 random questions.
Stuck On Stupid
Weird and crazy stories from around the world shared just for fun.
Dress to the Beat
A style segment where 'officialKWAME' gives styling advise based on a song reference.
What's in the box?
A segment at the end of the show where listeners are given hints and have to call in or use social media to guess what random prize the host is giving away for the day.
Ms Naa
Ms. Naa, the host of the flagship and trending morning radio show in Ghana, Ryse n Shyne, is no rookie to the broadcast industry. Her radio experience includes working with Vibe FM, Groove Radio and a stint with BBC as a student volunteer. Due to her broad creative background, deep understanding of the broadcast/entertainment industry and strong management and people skills, she was appointed General Manager of Ghana's #1 urban radio station, YFM.
Not only a mainstay on radio, she was also a judge on the Vodafone Icons reality series four years running as well as serving as a brand influencer for Ghana's most popular youth data subscription service, Vodafone X.
Ms. Naa graduated with an Associate Journalism degree from Essex County College and subsequently a Bachelor's degree in Film and Television from the prestigious New York University's Tisch School of the Arts. Her film work was nominated for and won a place in the Sight and Sound Film Festival in NYC.
The radio show host extraordinaire is unrivaled in her energy, her ability to express herself and engage her listeners.