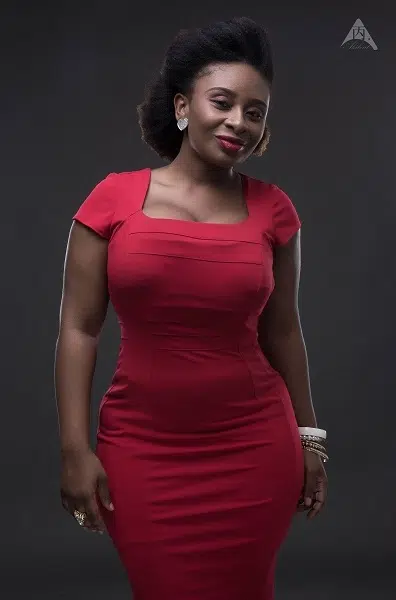 Akosua describes herself as a writer, actress, a Pan- Africanist and a passionate feminist with a simple personal philosophy: "live and let live, and have the utmost respect for the diversity of human beings.
She discovered her talent and passion for showbiz after taking part in a series of productions with the National Theatre and Efua Sutherland Drama Studio. As a performer, she saw radio and TV to be another form of performance where she could apply some rules from her theatre experience.
For her, what she yearned, and still yearns was to become an actress even though broadcasting came as a matter of course, and has helped to give her a voice.
The versatile broadcaster has been in the media landscape for five years and counting, a sprawling career journey that has seen her emerge from the stables of Homebase TV as presenter for a called "Around Town" in her undergrad days to one of the country's finest female radio personalities
This was the same time Akosua Hanson was writing for Citi Fm's Weekend Globe, a newspaper that she was to become the editor after her national service at the popular radio station.
While working at Citi FM, she was made a producer for Jessica's show at the time, Brunch in the Citi. This she did till she got a job offer from Y FM to host their morning show, "Ryse n Shyne", to sit in the hot seat that had been left by seasoned radio icon Ms. Naa.
Akosua recounted her first experiences on the show: "My first days on 'Ryse n Shyne' were fraught with a lot of pressure because of the huge shoes I was coming to fill. I was hosting a show Ms. Naa had hosted since the inception of Y FM.
No one knew who I was, and what I was going to bring to the table. But I approached it with my performer's principle, which is to bring as much of my reality to the new 'character' I was to play.
I made a lot of gaffes–listeners and friends still remind me to this day–but I was myself totally to my listeners: a feminist who loves hip-hop, Pan-Africanist still trying to find the real form of her Pan-Africanism, a young woman who is still dependent yet trying to make it out here, someone who loves a good laugh, and genuinely loves rich conversations…"
"Y Lounge" is a show centered on music, popular culture and the urban African youthful experience. A fervent believer in popular culture as the most influential tool in shaping people's minds, even more so than what is seen as the more serious fields like law, politics, etc.
Akosua believes that the short beef between Sarkodie and M.anifest about a month ago was a great avenue to have deeper cultural discussions such as the debate on local language versus English and American slang in Ghanaian hiphop, who defines the authenticity of someone's art, and classism in Ghanaian society.
Generating discussion around such beefs and other pressing issues are some topical issues that listeners who tune into the show are hot served.
She added: "I showed all of this to my listeners and many found ways to relate to me, especially even when they disagreed with me! I've made a lot of friends since, and what I'm truly thankful for is the fact that people can come up to me physically or on social media to challenge me on certain notions and ideas I have, and through the exchange of ideas we all learn a little more. I'm deeply grateful to Y FM for taking that unorthodox chance to hire me for that humongous job.
Myself, my DJ, DJ Kess and my producer, Gideon therefore try our very best to deliver an extremely fun, highly urban show that feels like a comfy home space to our listeners where they can just chill and have honest conversations."
Akosua Hanson is passionate, driven and one who loves to engage with open, intriguing minds about anything and everything; the very values that have spurred her on to great heights in her relatively young media career.
Such was her impact on the Ghanaian youth that saw her spend six weeks with 24 other amazing young Africans that are blazing the trail as leaders and pioneers in various field across the continent under US President Barack Obama's Young African Leadership Initiative (YALI).
She shared further: "In five weeks spent at the University of Illinois under the civic leadership track, we delved deep into American democracy, civic engagement, leadership, and studied as much as we could in the 6 weeks about minorities and oppression.
Apart from that, in many ways, we re-discovered Africa together. For many of us, being on this fellowship was our first time engaging with the rest of Africa. I learnt so much in language, culture, fearless journalism, politics, feminism, climate change and its effects on Africa, pan Africanism…
I made a new huge African family. Living together, seeing all our bad and good sides for 6 weeks was the most poignant pan-African experience I have ever had. We cried together, we laughed together and we discovered ourselves together.
And of course, the icing on the cake was meeting and engaging with Obama whose mind is phenomenal!"
Global Media Alliance Broadcasting Company, Akosua's employer, has played a key part of her professional broadcasting career having given her the chance to explore and polish her talent, influence of her close acquaintances in every sphere of her life.
Like she explicitly puts it: "Global Media Alliance gave me my second big break in radio. Citi FM gave me my first in introducing me and training me in radio in an expert way and Global Media Alliance gave me my second big break by giving me my first radio show. They took a crazy chance with me and gave me the institutional support I needed to face the wolves.
And more importantly they gave me a first class platform to engage with Ghana's youth. These are the two invaluable things Global Media Alliance provided that have helped shaped my media career: a voice and an audience."
For her, anyone who wants to make radio a career should not only see it as a path to glitz, glam or fame but rather for what it really is: that you are becoming yet another voice that will shape the thoughts of your generation and that is a very heavy responsibility.
This is her encouraging word to the Ghanaian youth: "In essence, how the future would look like is largely dependent on your voice today. So read, learn, open your mind and most importantly, make space for imperfections and errors.
Live. Live hard. Enjoy yourself, enjoy your world and enjoy humanity. And reach as high as you can. You're incredibly powerful and often the world loads you with a lot of 'can'ts' and 'don'ts' but just try. I'm still learning about life and have no wise gray hairs but I believe that life is not as black and white as society may try to make it seem. It can be very grey and in those grey areas lies all sorts of great possibilities for being a better human being and contributing to a better world."
By Patrick PAINTSIL